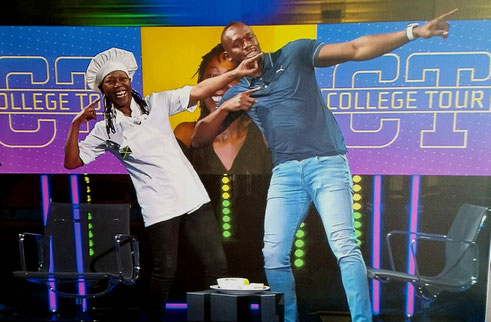 I am honored to meet Usain Bolt in person, after cooking up the Jamaican national dish, I made Ackee & Saltfish, pumpkin yellow rice, calaloo yam, and plantain.
I grew up in England being the fastest sprinter/runner in school, running faster than the boys. The principal asked my father to attend a meeting concerning his daughter( me ) my father thought I was up to mischief 🤣 but I wasn't for once.
My father came to the school with vengeance thinking he was coming to protect me. all the principal said was Laurel is a great track and field runner/sprinter and we asked you here to let you know we would suggest that Laurel run for this school and eventually for England. My father more than less in my mind burst into flames in anger shouting if she is going to be running for anywhere it would be for Jamaica.
Imagine that we lived in England. I was faster than the fastest Woman in Jamaica ( Marlene Ottey ) at the time. This picture means the world to me, I feel as if I got my Gold Medal because this picture is priceless 🙏🏾